WordFest celebrates the new year's arrival with local prose and poetry next Tuesday, January 8, 6:00 pm, at the Cassava Coffeehouse, 1333 Broadway in Longview.
David Martin will be reading from the final volume in his six-book series, The Adventures of Sugar Dog. Written for middle grade and older readers, the series is about 12-year-old Jimmy Baker and his dog who, along with Jimmy's three friends, embark on a number of mysteries during the summer between sixth and seventh grade.  The new book, Twilight and Tomorrow,  takes place six years later when Jimmy is graduating from high school and Sugar Dog is old and growing more and more feeble. 
David's radio voice may be familiar to many who listen to KLOG, KUKN and The Wave. In radio broadcasting for many years, he has also worked for KGON, KPAM, KXL as well as other stations in the Portland metropolitan area. A singer and songwriter as well as author, David has recently written a western under the pen name Dusty Dawkins, titled Six Feet Under.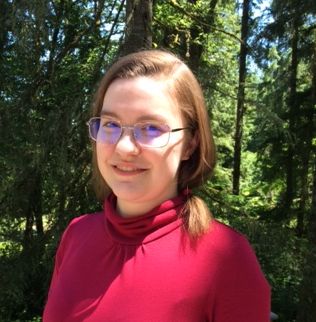 WordFest regular Caleigh Maffett reads from her fantasy novel in progress, Artorious, Selected. Artorious is a fifteen-year-old boy marked by the Folke to contain their king of kings, Lord Aether. A year prior, he was involved in an incident regarding Aether that made him the Number One Most Wanted in Faroque. Toran Kaelpie, a bounty hunter, finds Artorious while he's escaping local law enforcement. Sick, tired, and constantly on the run, Artorious doesn't have time or the trust to get involved with other people. Not that it's going to stop Toran and his sister Lillian from stepping in anyway.

Caleigh is a junior at university, planning to go into editing. She has been published in Metamorphose under her pen name and was an editor on the 2018 Salal Review, Lower Columbia College's award winning literary and visual arts magazine.

Kaden Moeller will be reading from his poetry collection, The Color That You See, which he describes as "an act of both bereavement for my lovely San Juan dog Mara and something for my Mother to read when she got back from her three jobs."  He describes it as "a poetic picture of the early twentieth first century, much like Walt Whitman's Leaves of Grass is a poetic picture of the 19th."
Born in Kirkland, Washington, Kaden moved to South Florida at the age of five, then back to Washington, and Longview, when he was twenty eight. His first poems and short stories were published in his high school creative writing magazine, The Tail Spinner, back in Florida.
There will be an open mic period following the presentations.
The monthly gathering of readers and writers meets the second Tuesday of each month, 6:00-8:00 PM, at Cassava. The events are free and open to the public.
Cassava offers a dinner menu for those who wish to enjoy a meal with the readings, as well as local wines and brews.
For more information, contact Alan Rose at www. Alan-rose.com.