WordFest next meets on Tuesday, July 1, 6:00-8:00 pm, at Cassava, 1333 Broadway in Longview.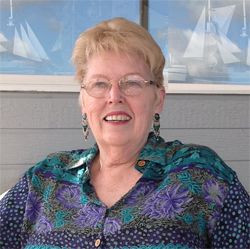 M. Kay Howell has written adventurous children's books and prize winning memoir essays.
After she donated her children's book series to a local jail in Vancouver, she was approached by a female inmate. Reading the children's stories, the inmate felt that Kay was someone she could trust to tell her story. Kay read the media reports on the case, obtained the courtroom video tape files from the hearings and trials, and found the story fascinating, an example of injustice in the American penal and court systems. She agreed to proceed with the project. The end product five years later was Surviving Justice.
The novel is based on the true account of two women thrown together in brutal circumstances who form an unlikely bond and confront the legal system in the Pacific Northwest.
Leslie Slape will be reading from her historical research for a play about the first hanging in Cowlitz County in 1892. The play imagines the conversations and the relationship developed between Ben Holmes, Cowlitz County sheriff from 1884-1892, and the prisoner Robert Day.
A former Daily News reporter and now a student at Portland State University, Leslie's writing has appeared in the anthologies The Healing Heart: Families and That Holiday Feeling, The Cowlitz County Historical Quarterly, and The Salal Review.
Peg Miller, a WordFest regular, will be reading one of her wry stories, this one about a kid sister's adventures.
WordFest is a monthly gathering of readers and writers who meet the first Tuesday of each month, 6:00-8:00 pm.
Cassava offers a dinner menu for those who wish to enjoy a meal with the readings, as well as local wines and brews.
The events are free and open to the public. There is an open mic period following the presentations.