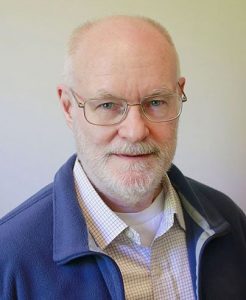 Portland author Jeff Stookey reads from his novel about the Ku Klux Klan's activities in Oregon at the next WordFest on Tuesday, March 13, 6:00 pm, at the Cassava Coffeehouse, 1333 Broadway in Longview.
Acquaintance, the first book in his Medicine for the Blues trilogy, tells the story of Carl Holman, a surgeon who experienced the horrors of World War I, including the loss of his fellow officer and lover. Returning to Portland after the war, Carl develops a friendship with a young jazz musician named Jimmy Harper. The two men tentatively begin to explore sharing a life together. But this is Oregon in the 1920s, where the Ku Klux Klan is gaining political influence and homosexual relationships are illegal. The novel is "a deep dive into Portland's history," based on archival research about the lesser known story of the Klan in the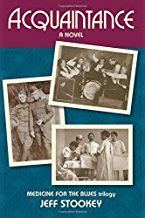 Pacific Northwest, riding the wave of anti-immigrant and anti-Catholic prejudice, and promoting the eugenics movement with its agenda to sterilize segments of the population thought to threaten Anglo-Saxon stock.
Jeff  was writing stories even as he was growing up in a small town in rural Washington State. He studied literature, history, and cinema at Occidental College, and received a Bachelor of Fine Arts in Theater from Fort Wright College. Trained in the medical field, he worked for many years with pathologists and trauma surgeons. Jeff lives in Portland with his longtime partner.
Watch the Book Chat interview with Jeff here:
Jan Bono will be reading selections from Bottom Feeders and Starfish, the first two books in her Sylvia Avery Mystery series, set on the southwest Washington coast.
Jan has lived in Long Beach, Washington, since 1977. She began writing a humorous, personal experience newspaper column that continued for 10 years, garnering 11 state awards from the WNPA. Her column's popularity led her to become one of the top five contributing authors to the Chicken Soup for the Soul series, publishing 36 stories during the past 8 years.
In 2012, Jan became the Grand Prize winner of the Coast Weekend serial mystery chapter contest. This inspired her to begin writing her lighthearted and fun cozy mystery series, which she describes as "like Murder She Wrote, but with a lot more humor."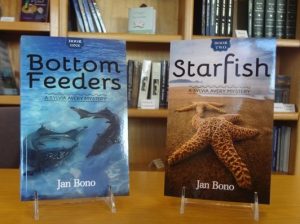 Jan has also written five collections of humorous, personal experience short stories, two poetry chapbooks, one collection of short romances, a book about her 252-pound weight-loss journey, and nine one-act plays. She has been published in numerous magazines, including Guidepost, Star, and Woman's World.
Jan was recently featured in a front page article in The Daily News. You can read it here.
There will be an open mic period following the presentations.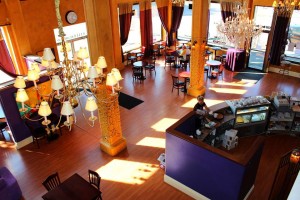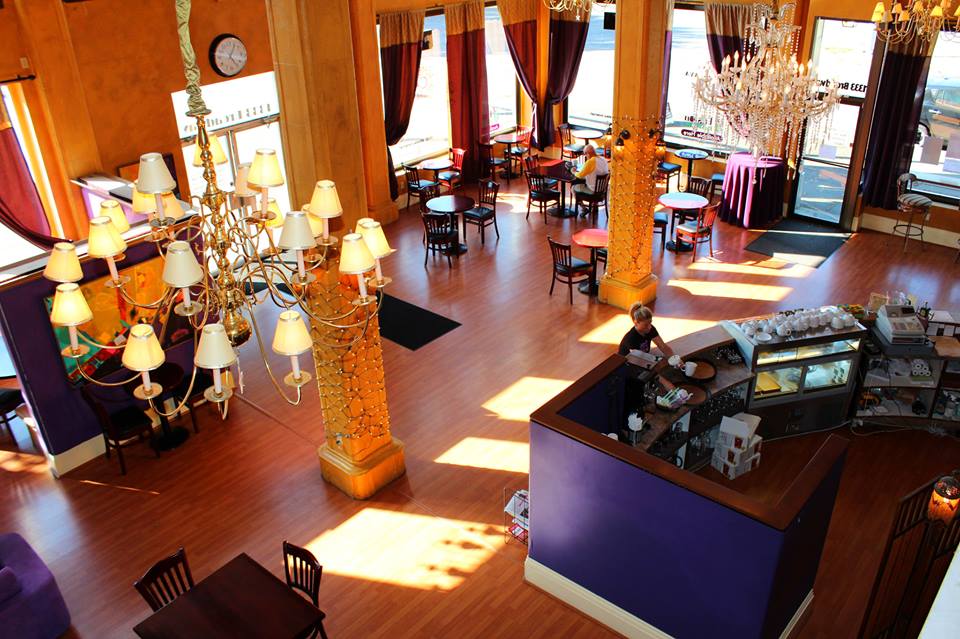 The monthly gathering of readers and writers meets the second Tuesday of each month, 6:00-8:00 PM, at Cassava. The events are free and open to the public.
Cassava offers a dinner menu for those who wish to enjoy a meal with the readings, as well as local wines and brews.