On Tuesday, November 5, WordFest will feature three very different books by local authors.
A departure from her usual non-fiction, Irene Martin will be reading from her first published book of poetry, The Family that Never Threw Anything Away. Author of The Flight of the Bumble Bee, Irene has written books on the history of the lower Columbia River region, salmon fishing, and spirituality.
Dennis Weber, a retired history teacher and frequent contributor to the Cowlitz Historical Quarterly, has written a fresh, new pictorial history of Longview in cooperation with retired librarians Sue Maxey and Karen Dennis. To create Images of America: Longview, they studied over 500 digital images from the collections of the Cowlitz County Historical Museum and the Longview Public Library's Longview Room. Dennis will read from the book and discuss the process of compiling it.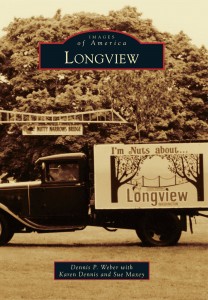 Jon Gosch, a native of Longview and graduate of R. A. Long High School, will read from his recently published first novel, If We Get There, the story of two young brothers who embark on a cross country motorcycle trip in search of a better life. Jon received a degree in Creative Writing from the University of Washington in 2007.

Copies of the books will be available for purchase and autographing.
WordFest is a monthly gathering of readers and writers who meet the first Tuesday of each month, 6:00-8:00 pm. In November, we will meet at Cassava (formerly Fusion Café) on the corner of Broadway and 14th Avenue. A special buffet menu will be offered for those who wish to enjoy a meal with the readings, as well as local wines and brews.
The events are free and open to the public. There is an open mic period following the presentations.