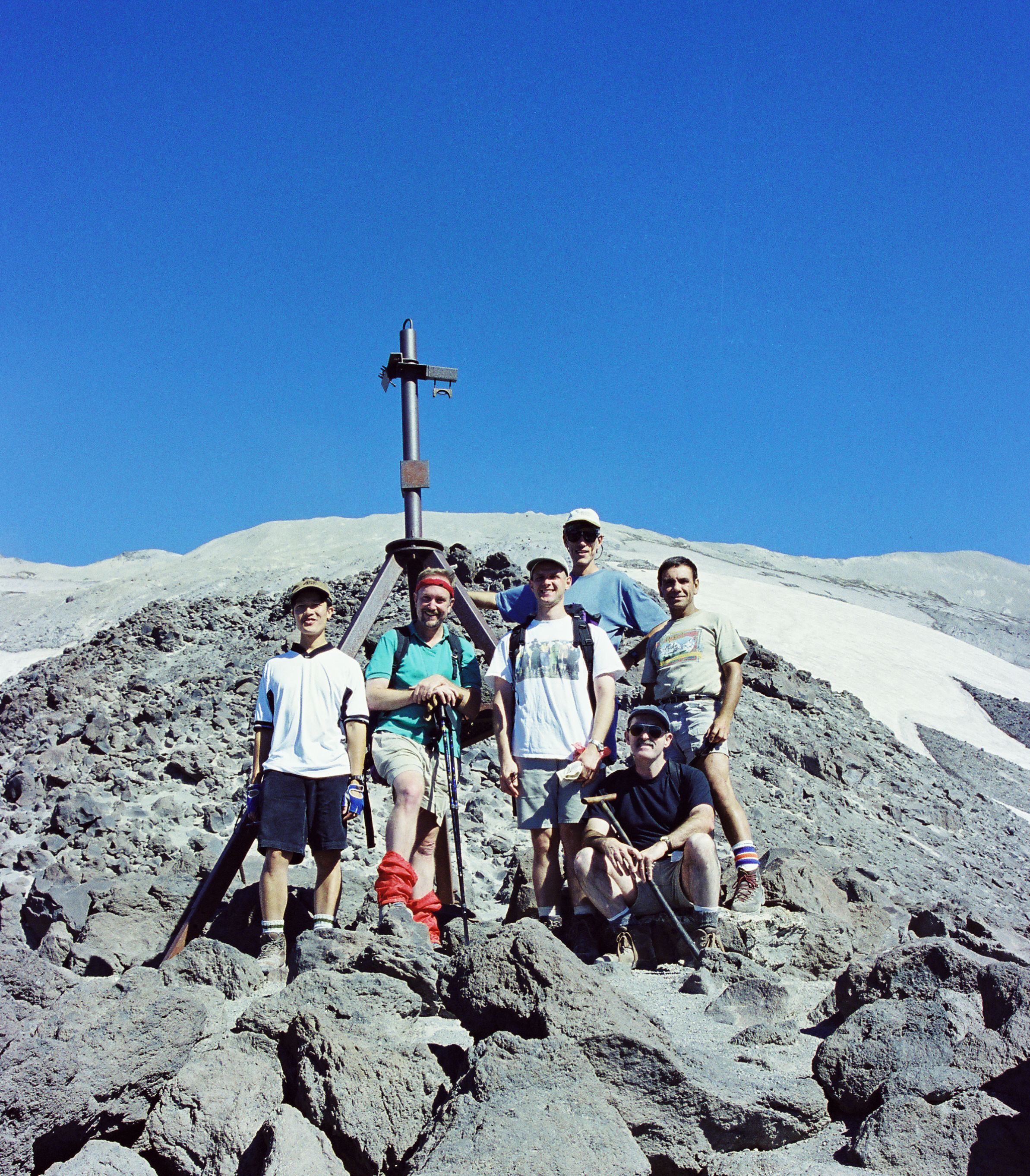 The mountain rose up before us, taunting us, challenging us, making faces at us, daring us to scale its treacherous slopes.
We faced a grueling 4,500 foot elevation gain in less than five miles. Straight up into thin air.  Man pitting himself against mountain. Epic stuff. Each among us knew the risks; each had weighed his chances. We were up to the challenge. We laughed in the face of danger. Hahahahahahaha…
There were six on our climbing team: Nordquist, Hilary, Mallory, Whitaker, Shackleton, and myself (Note: names have been changed to protect the innocent—that, and to avoid messy lawsuits.)
Each of us was in top physical condition, the result of hours of rigorous training in preparation for this day. I myself had read three books on sports training. We were ready.
Nordquist is the leader of the expedition. The success and safety of the climb will rest on his cool head and clear thinking. The very epitome of the mountaineer, he inspires confidence in the rest of us. Dressed in his mountain boots and gaiters, his Kelty pack bedecked with ice axe, ropes, pitons, carabiners, oxygen canisters, and a dome tent that can comfortably sleep twenty, he carries enough food to have kept the Donner Party alive through the winter. I feel slightly under-prepared, dressed in only walking shorts, T-shirt and sneakers with a space blanket in my pocket.
Hilary is still laughing in the face of danger, and we realize the altitude is already getting to him. Since we haven't left the parking lot yet, this is not a good sign. We may have discovered the weak link on our team.
It is a clear and cloudless morning as we set out, yet each of us knows how fickle the weather can be on the mountain. Certainly, not as fickle as last night's date, but still…
It will be a race against time. We will have only a narrow eight-hour window to reach the summit and get back down off the peak before Happy Hour at Scandals.
Nordquist orders us to rope up. We appreciate his precaution and concern for our safety. Still, we feel a little foolish being the only ones roped up together as we leave the parking lot.
The climb soon becomes grueling. We break out of the trees into the vast and barren lava fields. We are on our own now, cut off from civilization—except for our three cell phones, one laptop computer, and Mallory's hi-tech palm-size television/radio with satellite relay.
It is a warm day on these hazardous and unforgiving slopes, and Nordquist orders a halt for the expedition to rest and rehydrate. (Real mountaineers don't drink water. We rehydrate.)
After a short break, we set out again and are soon scrambling over boulders and traversing steep scree slopes. Hilary is having a particularly difficult time. (Note for future expeditions: high heels should be strongly discouraged.)
Mallory keeps us informed of the altitude with his new razzle-dazzle hi-tech watch with built-in barometer, altimeter, pedometer, and can opener. With each foot of elevation gain, the mountain takes its toll on us. 5,000 feet: oxygen is becoming thinner. Breathing becomes more difficult. 5,500 feet: our bodies are overheating. 6,000 feet: Hilary's mascara begins to run, reminding me of the raccoon we saw in the forest below.
At 7,000 feet, we come upon a sensitive geophysical seismic sensor, placed here by government scientists to monitor the mountain. We have great fun jumping up and down around it, wondering if there will be anything in tomorrow's newspapers.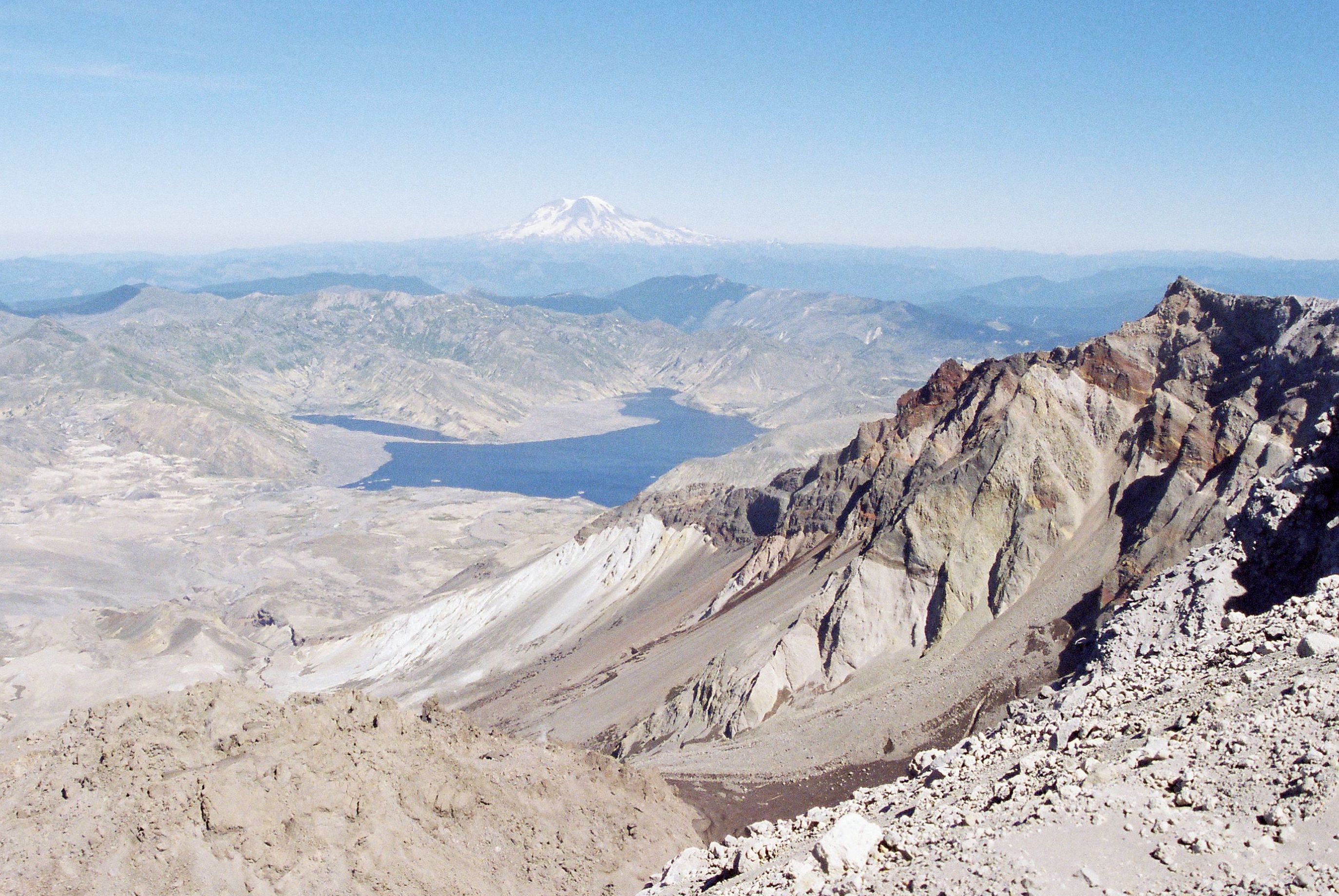 Finally, shortly before noon, we reach the summit. 8,363 feet. Against impossible odds, we had done it! O sweet triumph of the human spirit! Proudly, we plant our rainbow flag atop the peak and watch it unfurl and snap and wave in the wind--right next to the happy face banner of the group from the Goldendale Senior Center.
We stand on the thin, knife-narrow rim of the crater, gazing out into the vast grandeur and majesty of the North Cascades. Nordquist points out the surrounding peaks: Mt. Hood, Mt. Rainier, Mt. Adams, Mt. McKinley…Too late we realize Nordquist's poor sense of geography.
There are few thrills that can match standing atop a mountain peak—I can only think of two or three and those are illegal. Looking thousands and thousands of feet down into that immense crater, beholding the rising lava dome with its fissures and steaming vents, I was momentarily overwhelmed by one, powerful realization: "DUDES, WE'RE STANDING ON A LIVE VOLCANO!"
Famished from the ascent, we break out our provisions. I share my orange with Hilary who had been under the mistaken impression that there would be vending machines at the summit. Nordquist offers a piece of beef jerky that was dried and cured last century. Mallory shares his hi-tech, high carbo-protein bar that contains enough energy to fuel a small city; while Shackleton is dining on his gazpacho soup with a crisp Caesar salad and barbecued lamb in tahini marinade as he lets his bottle of Merlot breathe. (Shackleton is also a member of the Rainbow Cooking Club.)
An hour later we began our descent, each of us quietly proud of our team's achievement. We had risen to the challenge and we had triumphed. Forevermore, we would be counted among the courageous few (a mere 13,000 each year) who had reached the treacherous summit of Mt. St. Helens and returned to tell of it.
---
This article was first published in 1999 in Just Out magazine (Portland, Oregon.)