Chris Cleave
Simon & Schuster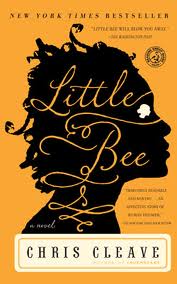 "I ask you right here please to agree with me that a scar is never ugly. That is what the scar makers want us to think. But you and I, we must make an agreement to defy them. We must see all scars as beauty. Okay? This will be our secret. Because take it from me, a scar does not form on the dying. A scar means, I survived."
                                              from Little Bee
Powerful, wrenching fiction takes no prisoners
"The men came and they…That was how all of our stories started."
There are books almost too painful to read. Little Bee pulls no punches. Powerful and wrenching, it is for people who can take their literature—and life—raw; this is fiction that takes no prisoners.
Chris Cleave, a journalist for The Guardian, has been compared to fellow British author Ian McEwan (Solar, Atonement, Amsterdam), so we should not expect some uplifting, heartwarming tale of the triumph of the human spirit. Both writers are more attuned to the deeper registers of human pathos.
Shortlisted for the Costa Award for Best Novel of 2008, this is a gripping story of two women—Little Bee, a sixteen-year old Nigerian girl, and Sarah, editor of a chic London magazine—whose lives come together on an isolated African beach and are bound forever by a single act of horror. The media would report it as one of those "crimes against humanity"—such a bland, innocuous term for acts of unspeakable violence, usually committed against women and young girls.
The incident may be set in Nigeria, but it could just as easily be Darfur, or Kosovo, or Iraq. Geography changes; the atrocities and the suffering are sadly universal. 
Little Bee becomes a refugee, escaping to England where she stays in a detention center for two years, before seeking out Sarah and her husband, Andrew ("When I say that I am a refugee, you must understand that there is no refuge"—The girl cannot escape from what she has witnessed; neither can Sarah.)
The book is often emotionally difficult to read and almost impossible to put down. A page-turner, it keeps drawing the reader to that African coast where we don't want to go, but must.
For me, the only false step was when the story lapsed into details of Sarah's previous adultery. Following the terror of what happened, her affair seemed somehow tawdry, the stuff of TV soaps: Will Sarah ever find true happiness with Lawrence? (Will Little Bee ever be able to live with the brutal rape and dismemberment of her sister?)
Sarah tells her, "We've got to get a grip. We can't let ourselves be the people things happen to." We, like them, want to hold out the hope for healing, knowing that, if it happens, it will be a partial healing.
Sometimes the "triumph" of the human spirit comes in a small, battered whisper: "We survived."
---
This review first appeared in The Columbia River Reader (May 15-June 14, 2010). Reprinted with permission.